H3H3 Productions leader Ethan Klein has been in the news mainly for how he has dealt with his absolute batshit ex-cohost Trisha Paytas but now, it seems like the aging YouTuber may actually facing some repercussions of his own.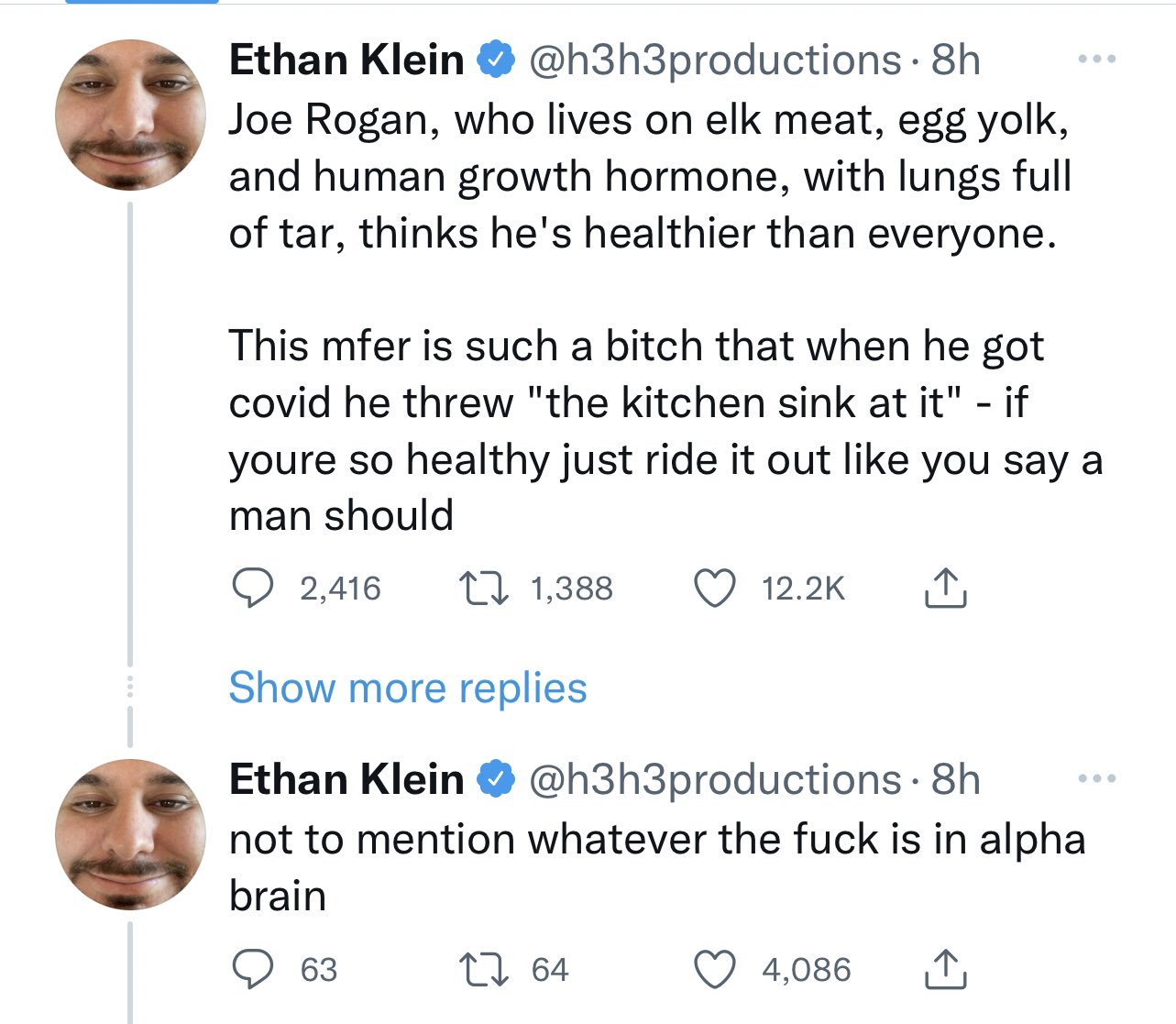 Klein took to twitter and decided to call out successful Podcast Host/Comedian/UFC Commentator Joe Rogan for his, "health choices".
Now, nothing wrong with that. People have opinions and letting the world be known to them holds 0 immorality, and I for one applaud anyone with differing ideals/outlook on life. However, Klein may be a bit overboard on this one.
Klein attacks Rogen for his very caveman esque diet. The 36 year old Rogen lives his life how he wants and doesn't let others affect him. Which when fat people like myself say these things, we're EMPOWERED!! BE FAT!! That's ok, however, when someone decides to stray from the social norms a bit and go out and just only eat a certain diet because they see extreme nutritional benefits for themselves they are PSYCHOPATHS??? That doesn't add up. Many people hate Rogen due to his political standings which is absolute lunacy, and you can see that hate in Kleins comments.
He added: "dude has caused so much vaccine hesitancy and misinformation and he doesn't even have the balls to stand by the shit he preaches. now he's on his show talking about how fat people should just die of covid – dude is such a f**king piece of s***."
I by no means am one to fat shame but when you play victim on the internet for your whole career and then go bully a man with arguably the largest following on the internet please expect people to come at your neck. Because they fucking did.
In summation, maybe just stfu. Stick to making Trisha Paytas look stupid because you know she essentially FEEDS you content. Hopefully The JRE Boys don't fully torch Ethan because I don't think this had malice intent, but still optically not good.